"World Trade Center"
starring Nicolas Cage
True Story, Action Thriller
Rated PG-13 for intense and emotional content
Every American needs to see this movie! The true story of Will Jimeno and John McLoughlin, two Port Authority police officers who rushed into the burning World Trade Center on 9/11 to help rescue people from the terrorist attacks, but became trapped themselves when the tower collapsed. Sobering, inspiring and true to the facts.
See the Trailers
Rate & comment on the movie.
"The Siege"
starring Denzel Washington, Bruce Willis
Action Thriller
Rated R for violence, disaster images
New York City becomes the target of several terrorist attacks after the U.S. military captures a Muslim leader. FBI special agent Hubbard (Washington) leads his anti-terrorist task force which must track down the terrorist cells responsible for attacks, but when things escalate martial law is instituted and General Devereaux (Bruce Willis) takes charge holding even an Arab-American FBI agent in a stadium-turned-detention camp.
Rate & comment on the movie.
"Sum of All Fears"
starring Ben Afleck, Morgan Freeman
Drama/Action
Rated PG-13 for violence, disaster images
Based on the bestselling novel by Tom Clancy, and the fourth film starring his character, CIA analyst Jack Ryan, made famous by Harrison Ford. Ben Affleck plays Ryan in this film, a historian, who hunts down a group of European neo-Nazi terrorists who plan to detonate a nuclear device at the Superbowl. Plenty of action and suspense in the plot that has Russian and American superpowers at a nuclear standoff.
Rate & comment on the movie.
"Escape from Taliban"
starring Manisha Koirala
Drama/True Story
No Rating
A Pakistani woman marries an Afghani Muslim man, leaves her country to the disapproval of her family, and suffers under the hands of the Taliban regime. Shocked by the way people live and how women are treated she tries to come to terms with her environment, but revolts after she finds out that her husband is already married. She makes bold attempts to escape from Afghanistan along with her adopted daughter, and finally with the help of her uncle she escapes but loses her daughter in the bargain.
Rate & comment on the movie.
"Not Without My Daughter"
starring Sally Fields
Drama/Action/True Story
Rated: PG-13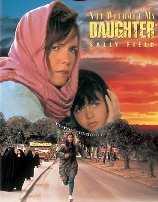 The movie takes place in 1984 when Betty Mahmoody's husband takes his wife and daughter to meet his family in Iran. Though a little uneasy, she trusts him when he promises they would be safe, happy, and free to leave. However, once there he tells her he's decided to stay and if she wants to leave she can, but without their daughter. If she stays she must adapt to the culture, which she believes is very dangerous. This movie shows the challenges American married women face living in Iran, such as our guest Pat Rousch experienced in Saudi Arabia, who after 20+ years has still not seen her daughters who were kidnapped by her ex-husband.
Rate & comment on the movie.